Southwold harbour work given approval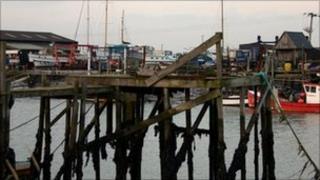 A £3.6m project to regenerate and refurbish the harbour area in a Suffolk town has finally got the go-ahead.
The plans to revitalise Southwold harbour and repair the harbour wall were boosted in October 2010 when it received £1.2m of European money.
Now Waveney District Council has agreed to commit the final £2.4m, which means work can start.
Work is due to begin in October, with equipment going on site in September.
The funds mean the crumbling harbour wall can be renewed and facilities such as fish refrigeration, a crane and improved moorings can be planned.
Waveney District and Southwold town councillor Sue Allen said: "This is fantastic news and crucial to secure the future, not only of Southwold harbour as a working harbour, one of only a handful of such round the country, but also the future of the caravan site, the River Blyth and valley.
"It is the culmination of a long, hard slog by the two councils, harbour users, Southwold Harbour Trust and the Blyth Estuary Group."