Felixstowe business rates rise 'could puts shops at risk'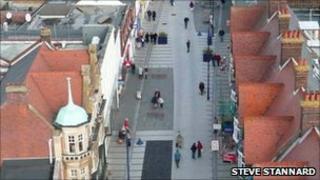 Independent shops in Felixstowe could be forced to close due to an increase in business rates, says the town's chamber of commerce.
Businesses were told in July that rates in Hamilton Road were being raised by 15% upwards and that this would be backdated to December 2010.
The Valuation Office Agency (VOA) said its valuations in 2008 were too low.
The chamber of commerce said local businesses should not have to pay for something that was not their fault.
Chairman Andrew Rowden said: "It's dire because most people haven't allowed for this in their business plan.
'Empty shops'
"If you're talking about a 25% increase on your payments you could have a backpay of anything between £2,000 and £6,000.
"If people can't afford to pay the business rates they're going to close their shops. That will affect the independents more than the multiples.
"Ironically, if they do close, the government is not going to get that business rate anyway because the shop is going to be empty."
The VOA said its decision followed a report on the impact a new shared space for pedestrians and vehicles had on local trade.
A spokesman said: "During the review to determine whether the shops should get a temporary reduction in their rateable value, new evidence - which the Valuation Office Agency was not aware of when carrying out the initial valuations - showed that the rental base used in April 2008 to determine the rateable values for the 2010 valuation was too low."
'Not fair'
The VOA said that 52 properties had been reviewed and that 43 of these would see an increase in business rates of less than 20%.
Dean Richardson, joint owner of OMG Clothing, which has been on Hamilton Road for nine years, said: "Our rates are going up approximately £500 a month - which is 50% for us.
"At the moment we're looking at around £4,000 to £4,500 in backdated payments but we haven't had the exact amount yet.
"We're not quite sure how we're going to find it - it is a big amount of money for a small store to raise."
Therese Coffey, Conservative MP for Suffolk Coastal, said she would investigate.
"I don't think it's fair to backdate the rises," she said.
"I question whether there should have been any rises on top of what was already agreed in their revaluation a couple of years ago.
"I've already sent a note to George Osborne and Eric Pickles and as soon as I get more details I can take up the appropriate action."