Blythburgh Priory ruins hosts first service in 500 years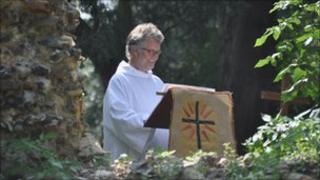 A ruined priory has hosted its first Christian service for 500 years.
The Augustinian priory at Blythburgh, Suffolk was founded in the 12th Century but was closed in 1537 during Henry VIII's dissolution of the monasteries.
The service, by a local vicar, marked the start of the village's Celebrating Blythburgh festival.
The Reverend Malcolm Doney said: "To have that link with the past was a tremendous experience."
Blythburgh's Holy Trinity Church dominates the skyline around the River Blyth and A12 trunk road, but the ruins of the priory are hidden from public view in the garden of a private house.
Nick Haward bought the house in 2005 and he has carried out conservation work in tandem with English Heritage at the ruins.
Television's Time Team paid a three day visit in 2008.
Saxon history
Mr Haward, who runs a building firm, said: "The ruins were in the garden and you couldn't even see them they were so overgrown - they just looked like brambles and ivy.
"We've done quite a bit of archaeology last year and you always want to keep digging deeper.
"The idea for the service was put forward by the church and we thought it was a fantastic one."
Mr Haward said canons are first recorded as being at the site in 1147, but there is evidence that it was a Saxon place of worship before that.
Mr Doney, who is a member of the Sole Bay team of ministers, said: "It's that combination of place and people and something spiritual happens when you get those two things.
"Faith is a fragile thing and we need each other when times are tough. It's not about certainties."
'Completely overwhelmed'
Jenny Allen, who was part of the choir at the service, said: "It's almost quite scary, but it's a lovely place and lovely to be part of it.
"Blythburgh is a very small village that can be seen as being divided by the A12, but actually it's a village that works very well together and it's this sort of event that emphasises that.
Susan Haward, soprano and wife of Nick, said: "I come down here quite often, but to be part of it today - I'm completely overwhelmed and I could just cry.
"I think we'll do this every year, and maybe more times inbetween with lots of singing, and think about all the people who used to live here and are buried here."