RSPB Minsmere rare birds to benefit from flood protection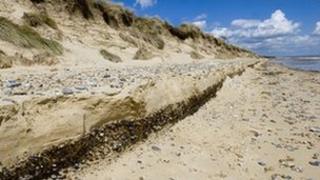 Rare birds and internationally protected flora at a Suffolk nature reserve are to benefit from flood protection.
The Environment Agency is raising and strengthening coastal banks at RSPB Minsmere.
It said freshwater habitats, where bitterns, marsh harriers and avocets lived were vulnerable to rising sea levels and possible saltwater flooding.
Footpaths will be closed at times and work is expected to finish in February.
The work will also protect 12 properties and the reserve's new visitor centre.
The Environment Agency's flood risk manager, Richard Houghton said: "This work is hugely important to ensure that species such as bittern and marsh harrier can continue to thrive at RSPB Minsmere... birds and plants at the reserve are flourishing and this work will help keep it that way."
RSPB spokesman Ian Barthorpe said: "Minsmere's freshwater habitats are among the most important in the UK for a host of different species, many of which owe their continued survival in the UK to the work of the RSPB.
"This project will ensure the long-term future of these species, and the habitats on which they depend, maintaining Minsmere's reputation as the best place to watch wildlife in the UK."