Work starts on £10m Felixstowe sea defences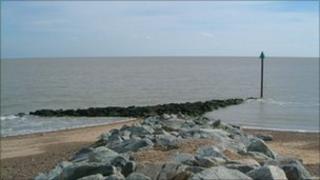 Work has started on a £10m coastal defence scheme in Suffolk that is designed to protect 1,500 homes.
The flood defence work on Felixstowe's seafront is being built in two phases.
Large rocks will be used to strengthen the coast. The work will cover the area between Jacob's Ladder and the War Memorial.
It will also include a walkway from the promenade around Cobbold's Point to Jacob's Ladder and involve bringing more sand and shingle to the beach.
The work is being funded by the government via the Environment Agency and administered by Suffolk Coastal Council.
Councillor Andy Smith said: "These vital coastal defence works will provide protection for nearly 1,500 homes, as well as local businesses, recreational gardens and key facilities in central Felixstowe for the next 100 years."
In January the Environment Agency reversed its decision to withdraw the funding for the scheme after a campaign by the council and local Conservative MP Therese Coffey, who argued existing defences were at real risk of imminent collapse.