Chelmondiston waste recycling site to start charging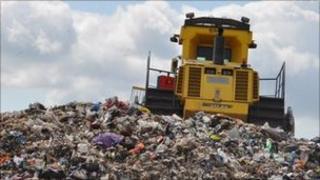 Residents will have to pay to use a Suffolk household waste site after it was taken over by a private firm.
Conservative-controlled Suffolk County Council is closing 7 of its 18 free-to-use sites following a budget cut of £42.5m (8.4%) this year.
Collins Skip Hire has reopened the Chelmondiston centre after talks with the county and parish councils.
A small car load will cost £3 to dump while a mattress would be £10.
Billy Richmond, managing director of Collins, said: "We obviously hope the charges we set are palatable enough for people to say: 'Do I want to drive into Ipswich, pay for petrol and queue or support my local site?'
"There will be changes because we take a commercial view and that's going to be the difference.
Reduced hours
"It's about how people will use it and if there will still be demand of 9,000 visitors a year."
The site was open for 70 hours a week, but it will now be 41 hours over five days including weekends.
Other charges are £6 for an estate car and £20 for trailers, vans and pick-up trucks.
Councillor Lisa Chambers, portfolio holder for waste at Suffolk County Council, said: "I sincerely hope this will work and the community will support it.
"We didn't want to close any sites, but had to because we simply didn't have the money to keep all 18 open.
"There is a cost to waste and I'm hoping people will want to reduce the amount of waste they produce."
The Open Door charity is taking over the former county council-run site in Newmarket on 25 August.
The county council said it is trying to find similar solutions for the centres it is closing in Bramford, Brome, Southwold and Beccles.