Newmarket Hatchfield Farm badger survey to take place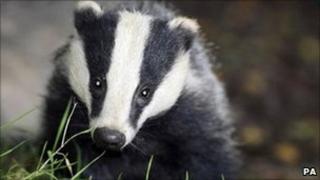 Developers are to carry out a survey of badger setts on land in Newmarket where they want to build 1,200 homes.
The planning application for Hatchfield Farm, submitted and owned by Lord Derby, was turned down last year by Forest Heath District Council.
The developers have taken their case to a public inquiry which will resume later this year.
Badgers are a protected species and an ecologist will evaluate the site between Fordham Road and the A14.
The Save Historic Newmarket Action Group is opposed to the housing development.
Rachel Hood, from the group, said: "It was a shock to find that badgers had suddenly been found on the site and that Lord Derby's people wanted another delay in the proceedings.
'Work together'
"We thought we might get a result from the inquiry at the end of the year, but I imagine it will be next year now.
"It's an enormous development which will increase the size of Newmarket by about a third and the people of Newmarket don't want it, the horse racing industry doesn't want it and we would have appreciated him [Lord Derby] accepting the view of the local people."
The badger setts were discovered by the developers, who said the break in the inquiry would have happened anyway.
A spokesman for Lord Derby said: "As a result of this new information, a badger survey will now be conducted, with results presented when the inquiry resumes in September.
"All parties involved in the process have been asked to participate in the survey, with the sincere hope that they can work together."
The planning inquiry sat for three weeks in July and it will resume on 20 September.
A final decision on the development will be made by Eric Pickles, the secretary of state for communities and local government.