Brandon Buzz cancelled due to fears of gang violence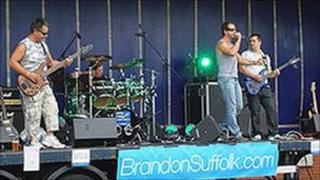 A town's annual music event has been cancelled due to fears violent gangs were planning to cause disruption.
The 12th Brandon Buzz in Suffolk was due to take place on 28-29 August at the remembrance playing fields.
Joint organiser Eddie Stewart said he received "intelligence" gangs of young people had planned to fight.
"These youngsters were going to use weapons and have this fight and I couldn't take the chance," he said.
'Too risky'
Mr Stewart said the bands, food outlets and entertainment had been booked for the event.
"It's a family do and if anyone was injured I couldn't live with myself," he said.
The Brandon Buzz was created to provide a platform for young musicians.
"We ended up with 11-14 year olds forming bands, and a lot of those still exist - even though it's been 12 years," said Mr Stewart.
Ch Insp Martin Barnes Smith is responsible for the Safer Neighbourhood Team in the area.
He said organisers had been advised to carry out searches at the event.
"A couple of years back there was an issue at the Brandon Buzz where, through a combination of bad planning and not looking at the intelligence picture, there was some public disorder," he said.
"We've been working with the organisers since to say they need to be able to deal with potential issues that may happen around events where alcohol is served.
"Ultimately the decision was made that it wouldn't be practical to do the things to make it a safe event so it was cancelled by the organisers."
Mr Stewart said he hoped Brandon Buzz would return another year.