Boy George named patron of Focus 12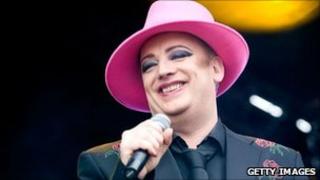 Boy George has become a patron of Focus 12, the drug and alcohol rehabilitation charity based in Suffolk.
The singer and DJ said he wanted to spread the word that help is available for people who are struggling with addiction, and to their families.
"The important thing is for people to know there is a way out of it - there's Focus 12, NA (Narcotics Anonymous) and AA (Alcoholics Anonymous)," he said.
Russell Brand and Davina McCall are also patrons of Focus 12.
Bury St Edmunds-based Focus 12 chief executive Chip Somers said 19 drug and alcohol rehabilitation charities had closed in the UK in the past 20 months.
He said the support and publicity provided by the patrons had kept Focus 12 running.
Boy George, whose real name is George O'Dowd, made his name with Culture Club and has himself battled with drug addiction.
"It did used to be something that was associated with music and celebrities, but nowadays it's so widespread," he said.
"One of the great things about Focus 12 is that it concentrates on the whole family, because it is a family disease.
"If your child has a drug problem it affects everyone in the family."