Lowestoft Air Festival: Traders call for year-long support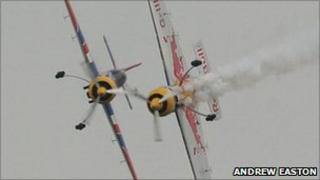 Seafront traders in Lowestoft are calling on Waveney District Council to increase its investment in the area.
More than 350,000 people attended this year's air festival, but local businesses say more needs to be done to attract visitors throughout the year.
"You can't base a summer season totally around a two-day festival," said David Scott, owner of Claremont Pier.
Waveney District Council said it had recently spent £500,000 on improvements to the seafront.
Mr Scott said the seafront needed more events around the calendar and additional indoor entertainment.
"There was a lot of energy about 10 years ago for the seafront, with gardens, reclaiming some of the beach and turning the toilet block into a restaurant - some great ideas," he said.
Improvement plans
"There was a lot of money spent on feasibility schemes but nothing came of it.
"The trouble is that nowadays everything is based around the airshow and it shouldn't be like that."
Martin Williams, who works at a cafe on the seafront, said: "We're far from anti-airshow but it seems to me that we get no support whatsoever.
"We need the air show obviously because of the high demands of business rates and rent on the seafront but why should we have to rely on one airshow per year?
"The council are doing nothing throughout the season for these seafront businesses."
Conservative leader of the council Colin Law said: "While it would be fantastic to see more major events taking place in the town year-round, it's not the responsibility of a local authority to provide entertainment.
"We have invested considerably in improving the seafront in terms of the wall and lighting, amounting to about £500,000 going into those two projects alone.
"Lowestoft is a Blue Flag beach and that flag doesn't come from a lack of investment.
"As part of the Sunrise Scheme... Lowestoft's high street was improved as well, with new benches and rubbish bins for example.
"Over 180 trees were planted and 53 new businesses were created, as were 490 new jobs."