Ipswich Beer Festival unites with Maritime Ipswich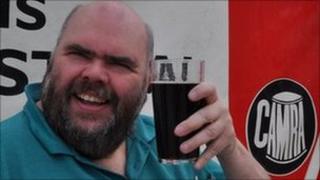 The annual Ipswich Beer Festival has moved to the waterfront to tie in with the revived Maritime Ipswich weekend.
The Campaign for Real Ale (Camra) said it can accommodate twice as many people as it could at the Corn Exchange.
The beer festival starts on Thursday with the nautical festival taking place on Saturday and Sunday.
Nigel Smith, Camra's area organiser, said: "Rather than just speaking to the converted, we'll be talking to people who aren't real ale drinkers."
Camra's four-day beer festival has been held in the Corn Exchange for 28 years and the move to marquees on the quay side will increase the capacity from about 800 to 2000 people.
400 boats
Mr Smith said: "It's always going to be a weather risk if you go outside in England but sitting out by the dockside was an opportunity too good to miss."
Maritime Ipswich is returning after a break of a decade and will feature 400 visiting boats, music and maritime artists, river cruises, displays and demonstrations, a food festival and a children's zone.
James Young, Ipswich Borough Council's event manager, said: "It could be a good economic driver for the town but more importantly for people to see the development that Ipswich has gone through in the last 10 years.
"There were no actual residents last time the festival was on and I think we've got a real sense of community alongside business now.
"We want it to be an event that grows over the next 2 to 3 years and is a permanent fixture in the event calendar."
The £9m DanceEast centre will be holding free hip hop, yoga, flamenco and belly dance workshops and demonstrations on both days of Maritime Ipswich.
Emma Brightmore, DanceEast's head of marketing, said: "Because we're down here on the waterfront it would be silly of us not to be involved in this event.
"We're not doing the sailor's hornpipe, we're trying to stick to what we do generally, so people can come and have a go and come back if they enjoy it."