Waitrose submits plans for Ipswich Corn Exchange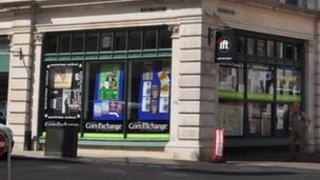 Waitrose has submitted a planning application to build a small store in the Ipswich Corn Exchange.
The volunteer-run Ipswich Film Theatre, which is in the same building, fears it will disrupt its operation and reduce its visibility.
Labour-run Ipswich Borough Council, which owns the building, said it was committed to the film theatre and would try to limit any problems.
Waitrose's planning proposal will go before a committee in September.
The film theatre used to be run by the council until the former Conservative and Liberal Democrat administration handed it over to a private Hollywood chain.
They ran it for a year before pulling out.
New administration
The Ipswich Film Theatre Trust reopened it in 2010. The trust is worried it will lose its sign and use of window space to display movie posters if Waitrose moves into the Corn Exchange.
Jane Riley, chair of the volunteer trustees, said: "There needs to be a vision and some money spent on the Corn Exchange.
"If Waitrose proceeds, we have to look after our best interests to make sure we're not affected."
The Waitrose proposal began during the previous Conservative and Liberal Democrat administration at Ipswich Borough Council.
Labour regained control of the local authority in 2011.
David Ellesmere, leader of the council, which has been in talks with Waitrose over the proposed store, said: "We have decided to go ahead with it, because getting Waitrose into the town centre would be a boost for Ipswich.
"When councils are having their budgets cut by 30% by government, we have to watch every penny and it will save money through rent so we don't have to make cuts to front line services.
"We've been absolutely clear that we want the film theatre to continue and if there are any issues with the Waitrose operation, we will make sure they don't affect the film theatre."
Waitrose said if the plans are passed, it hoped to have the store open by Christmas and would create up to 60 jobs.
Meanwhile, Waitrose has held a public exhibition about its proposed supermarket and John Lewis At Home stores on the former Cranes site in east Ipswich.
Waitrose estimates it can create 300 jobs at the 17-hectare former industrial site.