This Boy Wonders picked for Reading and Leeds Festivals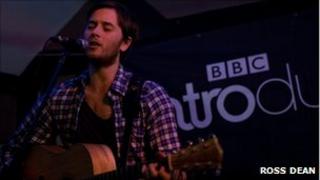 This Boy Wonders are to play the Reading/Leeds Festivals, having been tipped by BBC Introducing in Suffolk.
The quartet from Boxford will perform on the BBC Introducing stage in Reading on Friday, 26 August before playing in Leeds the day after.
Singer Chris Athorne, said: "It's hard to take it all in because it's a gig that puts us on the national platform.
"It's the biggest gig we've ever done and we never thought we'd be doing something like this so soon."
BBC Introducing in Suffolk heard about This Boy Wonders when they submitted their music via the BBC Uploader.
"Three years ago we uploaded a song called Home," said Chris.
"A week later we received an email to say it was being played on air.
"Ever since that BBC Suffolk has shown a massive amount of support and now we're playing Reading and Leeds as a result."
Prestigious slot
The BBC Radio Suffolk show, presented by Graeme Mac and Richard Haugh, is part of the BBC Introducing network and is asked to recommend acts for prestigious festivals including Glastonbury and T in the Park.
Previous acts to have played the BBC Introducing stages at Reading and Leeds include Everything Everything and Pulled Apart By Horses.
"The potential that could come from it is massive," said Chris. "There's also a chance nothing could come from it, but you can't think of it.
"You just have to think who has played on these stages before, how they did it and look what they're doing now.
"More than anything you've got to be a realist and say 'we're playing Reading and Leeds, if that's not an accomplishment for a band from a local area what is?"
This Boy Wonders will be on stage at 15:25 BST at Reading and 15:50 at Leeds.
"We're right in the middle of the bill, which is really nice as it's a time where people just wander around a bit before the headlining acts," said Chris.
"So there will hopefully be lots of people just milling around."
The BBC will be broadcasting live from the festival throughout the weekend and the BBC Reading and Leeds website will have videos of the performances.