Lakenheath Hall housing scheme gets planning permission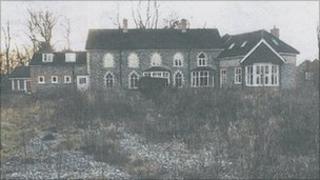 Retrospective planning permission has been granted for an "executive" housing project in Suffolk which villagers claim had flouted regulations.
Lakenheath Hall was bought by the original developers in 2004 to create a gated community of 14 homes.
Lakenheath Parish Council said nearly 100 trees were felled and unapproved changes made to the hall.
But Forest Heath District Council has approved the plans of a new company which has taken over the project.
The original plan was to convert the hall into three homes and build 11 new ones.
Ian Smith, vice chairman of Lakenheath Parish Council, said: "We've lost the wall which was part of the conservation area, changes were made to the hall which were not entirely according to the plans, properties have been built outside the planned area and we've also had a partial demolition of a listed building.
"We don't think that retrospective planning permission is a good idea and it says to any prospective developer that the district council aren't going to care too much what you do."
However, Forest Heath said the council began enforcement action in 2005, prosecuted the company in 2010 and issued stop notices.
The retrospective planning permission has been granted to the new developers, Lakenheath Hall Estates, who are working with RPS Planning & Development.
Don Proctor, a director with RPS, said: "There have been a whole series of misunderstandings of what the current proposals involve.
"The current applicant is not the developer who caused so much damage on the site some years ago.
"My client is now putting together an amended scheme to provide new dwellings in accordance with earlier planning permissions and to restore as far as possible the original character of the grounds."
Councillor Rona Burt, chair of Forest Heath's planning committee, said: "What members felt was that the proposals are as good as we're going to get and we need to be moving on.
"What they're proposing with 6,000 plants, 198 trees and 2km of hedging around the site is going to make it much better than it is at this particular moment."