Freight train fire near Milton Keynes disrupts services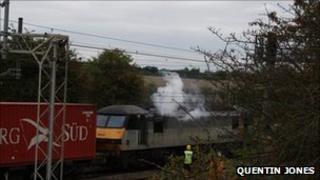 A fire on a freight train in Buckinghamshire has caused major disruption on the rail network.
Network Rail said all services were suspended on the West Coast Mainline after the fire began at about 09:30 BST at Castlethorpe, near Milton Keynes.
Fire crews put out the blaze on board the train, which was travelling between Crewe Basford Hall and Felixstowe.
Network Rail said the damaged train had been removed and all four lines through the area were reopened by 13:40 BST.
"The lines are open and trains are travelling through at normal speed," a spokesman said.
"There will still be delays through the afternoon but we will be working hard with the train operators to keep those delays to a minimum."
A British Transport Police spokeswoman said the fire was not being treated as suspicious.