Rocks en route for Felixstowe sea defence work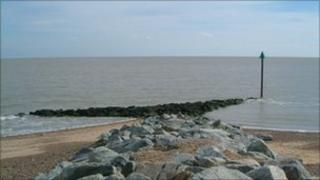 A barge carrying 20,000 tonnes of rock will arrive in Felixstowe this week, as work on the sea defences continues.
The £10m project started earlier this month and will see 18 rock groynes installed along the seafront.
Suffolk Coastal councillor Andy Smith, of the Conservatives, said the defences should last for 100 years.
"If nothing is done [the erosion] will gradually eat its way back into some substantial residential areas of town," he said.
Mr Smith said work on the first phase, stretching from below Harvest House to Cobbold's Point, should be complete by early November.
Work on the second phase, which covers the area towards the war memorial near Felixstowe Town Hall, will take place from April to July 2012.