1 Big Multicultural Festival staged in Ipswich park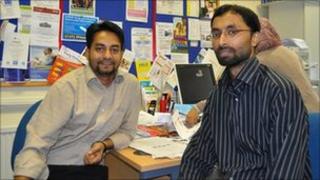 Ipswich is hosting a new multicultural outdoor festival in Alexandra Park.
The 1 Big Multicultural Festival, organised by the Bangladeshi Support Centre (BSC), is billed as cultural rather than religious.
The event, on Sunday 4 September, will feature music, dancing, food and sport from across Europe and Asia.
Mojlum Khan, co-ordinator, said: "Other events, such as the Mela or May Day Festival, have a specific focus, whereas here the focus is everyone."
Live music and dance will aim to reflect Bangladeshi, Indian, Polish, Chinese, African, Caribbean, Kurdish and other national groups that live in Suffolk.
Great Britain will be represented by local bands including The B.Goodes, Turntable, Jackknife Horsebox and X Factor contestant Jade Peters.
Message of unity
Alexandra Park has a capacity of 5,000 and the BSC said the cost of staging the festival is being covered by sponsorship and private donations.
Mr Khan, who is the manager at the BSC, said: "Suffolk is no longer what it was 20 years ago and we wanted to showcase that on one stage with everybody together.
"After all the problems in the country like riots, this will be a powerful message of unity - locally and hopefully nationally."
The event coincides with the end of Ramadan for Muslims.
Boshor Ali, chairman of the BSC, said: "This is nothing to do with religion - it's a community event."
Mr Khan added: "It's not to mark the end of Ramadan, because if I had the choice, I would be holding it before Ramadan.
"You don't want to be organising an event like this while you're fasting, but we did not want to be clashing with existing events.
"We will consider it a success if all people from all different backgrounds come along and have a good time and for children to go back to school and say they went to an extraordinary event."
The Ipswich Town of Sanctuary charity, which was founded by a multi-faith group, will be in the park raising money to house homeless people and refugees.