Ipswich reservoir to get £1.5m clean and check-up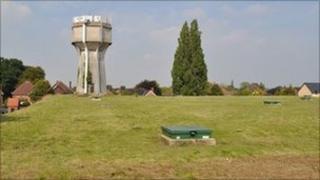 An Edwardian reservoir in Ipswich is to be drained and given a clean and check-up costing £1.5m.
Anglian Water will begin work on the concrete tank following a public exhibition at the Park Road site.
The grass mound, which covers the reservoir, will be replaced by a stone-clad membrane.
Matt Humphrey, project manager, said: "We want to make sure this amazing old reservoir can continue to serve the people for another 100 years."
The reservoir was built in 1902 and it stores water pumped from boreholes in Whitton.
The exhibition, accessed via the entrance on Elsmere Road, takes place on Tuesday, 6 September with draining of the tank starting 13 days later.
Mr Humphrey said: "Routine cleaning and maintenance has kept the reservoir in good condition since it was built, but the time has come to give it a more fundamental overhaul.
"Standards are rather different today than in 1902 so the first job will be to remove 6,000 tonnes of topsoil from the roof and replace it with a layer of stones on top of a new waterproof membrane.
"We have had a look around inside using a remote camera, but we can't wait to actually get inside and have a look around for ourselves."