Ipswich police seek men after fire in flats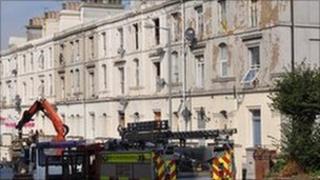 Two men are being sought by police after a fire in a house which had been converted into flats in Ipswich.
Firefighters were called to the blaze in the building in London Road, close to the junction with Burlington Road at about 03:15 BST.
Residents were led to safety as crews tackled the fire on the third floor of the four-storey terraced town house.
Police are keen to trace two white men seen acting suspiciously behind the building at about midnight.
One was wearing a dark baseball cap and the other was wearing a lighter baseball cap.
Incident commander Karl Rolfe, from Suffolk Fire and Rescue Service, said the fire had spread to neighbouring properties but nobody had been hurt.
'Substantial blaze'
"We have done a thorough search of all the buildings and we have worked closely with the police and have accounted for all the individuals concerned. There are no casualties as a result of the fire," he said.
"It was a substantial blaze. The initial crews arrived here just before 03:30 and the fire was well established at that point.
"It was through the second floor windows and showing through the roof as well."
On the cause of the fire, Mr Rolfe said: "We're ruling out nothing at the moment so a suspicious origin is a possibility."
Anyone who was in the area of London Road in the early hours of Saturday is asked to contact police or Crimestoppers.
London Road was shut at Handford Road while the emergency services continued to deal with the incident.