Lowestoft Hospital bosses close top floor with loss of beds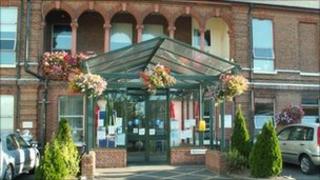 NHS managers are closing the top floor of Lowestoft Hospital with a net loss of 13 beds.
Bob Blizzard, former Labour MP for Waveney, said: "This move seems to go against the previously stated policy of 'care closer to home'."
The James Paget University Hospitals in Gorleston, which runs Lowestoft Hospital, said it was looking at using the building more efficiently.
There will be 27 beds left, which are mainly used by older people.
The hospital on Tennyson Road is a community hospital with 'GP beds' which family doctors can use to refer frail or older patients if they need care while in recovery.
Mr Blizzard said: "If you've got an elderly relative who has to be in hospital for a few days, it's nicer to have them closer to home and that's why the hospital has been popular down the years.
Services 'undiminished'
"In the past in the NHS when a major change was being made, not only were the public told, they were also consulted."
Wendy Slaney, chief executive of the James Paget University Hospitals NHS Foundation Trust, said: "Sometimes we put in additional beds and that's not something that we need to consult over, and the scale of this is not either.
"The services are transferring downstairs and what we are doing is looking at the hospital as a whole."
They will also be spending £150,000 refurbishing the ground floor.
Managers also said some staff will be relocated to the James Paget University Hospital in Gorleston but there were no planned redundancies for nursing staff.