Marc Bolan and T.Rex musical 20th Century Boy debuts in Ipswich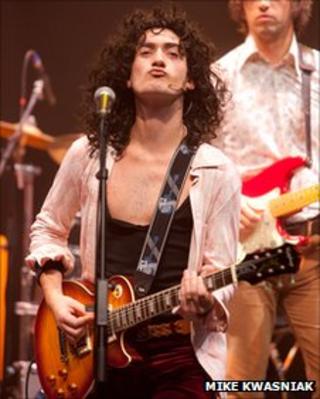 Ipswich is staging the premiere of a new musical about the life and death of T.Rex's Marc Bolan.
20th Century Boy has been produced by the New Wolsey Theatre.
The show features some of Bolan's best-known songs including Ride A White Swan, Get It On and I Love To Boogie.
George Maguire, who plays Bolan, said: "It's a celebration and shows how fame and success put a strain on his life and mental well-being, but he came through it."
The musical is biographical rather then telling a fictional story like Abba's Mamma Mia or Queen's We Will Rock You shows.
It features the actors playing the songs live as the story takes us through Bolan's various periods - the mod era, the bands John's Children, Tyrannosaurus Rex and T.Rex - to the car crash which killed him in London in 1977.
Teenybop idol
The New Wolsey's Peter Rowe has co-written the story with Gary Lloyd, although the idea originated with Brian Dunham, Colin Griffin and Nicky Graham.
Mr Rowe, who was born in 1956, said: "My sister, who was two years younger, was the big Marc Bolan fan in our house while I was slightly sniffy about him because he was a teenybop idol.
"I've grown very fond of some of those big songs like Get It On and Jeepster, but, because they work really well in the show, I really like the operatic songs like Whatever Happened To The Teenage Dream and Cosmic Dancer.
"We see the bottom of the barrel Marc reached in America and the problems he had with drink and drugs, but then there is an upswing related to becoming a father."
Bolan's partner Gloria Jones was driving the car which crashed leaving her to bring up their two year old son Rolan.
'Close to the bone'
Mr Rowe said: "Brian and Gary went to see Rolan and Gloria and talked them through what we were planning to do.
"It's bound to be very close to the bone for them, but they've given their blessing for the project.
"I'm hoping we represent Marc truly and accurately and we've done our very best to do that."
Gordon Abbot, 53, is a member of the Marc Bolan Fan Club from Ipswich who also plays in a Tyrannosaurus Rex tribute act called Strange Orchestra.
He said: "We want the best for Marc and as fans we'll be possibly the hardest to please, but we want it to be wonderful.
"We'll probably feel it that little bit harder if it isn't, but we're praying that it goes to the West End.
"I am anxious because I want to see a good portrayal of Marc and if he behaves in a way that isn't Marc, it will be hard to get over that."
Mr Maguire said: "I only really knew the big tunes, but as soon as I started auditioning and researching that's when I got into him and I'm totally a fan now."
Despite a decline in chart hits, Bolan had his own ITV children's show in 1977 called Marc, which had many of the new young punk and new wave stars as guests.
Mr Rowe said: "It's curious the association with punk because you think they're unlikely bedfellows, but a lot of those bands thought of him as being the 'godfather of punk'.
"He took The Damned on tour with him, and we see that in the show."
20th Century Boy runs at the New Wolsey Theatre, Ipswich 8 September-1 October 2011.