Lap dancing bar plan for Ipswich withdrawn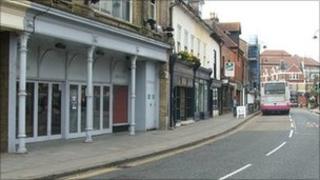 A proposal for a lap and pole dancing bar in Ipswich has been withdrawn in the face of opposition.
Businessman Shane Butcher was seeking planning permission to turn the former Fire & Ice nightspot on Tacket Street into a sexual entertainment venue.
Ipswich Borough Council had more than 40 letters of opposition from the police, churches and neighbours.
Mr Butcher's agent for the application, Roger Gilles, said: "The client has waived to popular opinion."
Suffolk Police opposed the idea, claiming its strategy to protect vulnerable women would be compromised.
The Make A Change team was set up in the wake of the murders of five women who worked as prostitutes in 2006.
'Contradictory message'
Supt Martin Ransome said: "The remit of the team developed to include off-street prostitution with a focus on tackling sexual exploitation, including people trafficking.
"There is intelligence that former prostitutes and vulnerable women have been enticed back into sexual entertainment where there have been licensed premises.
"An endorsement, through planning consent, sends out a message, which contradicts the aims of the team."
Mr Butcher, who withdrew the application ahead of the council's planning committee meeting, was unavailable for comment.
Mr Gilles said: "We expected some letters of opposition but we didn't realise how sensitive it is.
"We thought it would simply antagonise people if we pursued it."