Suffolk Prison Fellowship prays for Hollesley and Warren Hill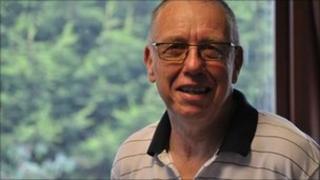 As the number of prisoners hits a record high, Christians in Suffolk are being urged to pray for those inside.
Following the riots, the number of inmates in England and Wales has risen by 1,300.
There are over 86,000 people in jails, young offender institutions and immigration removal centres.
Claire Bonham, Prison Fellowship, said: "Everybody needs to see that justice is done, but one of things we are concerned about is reoffending."
The Fellowship runs several programmes including writing letters to prisoners, supporting prayer groups and raising money to buy Christmas presents for the children of convicts.
Ms Bonham, who is head of volunteering in the UK, said: "Putting them into the prison system doesn't mean we should stop thinking about them or praying for them.
'Unlovable'
"If they are not given help and support, the chances are they'll reoffend when they come out, which is costly to the taxpayer and not good for society as a whole.
"Understandably Christians find it hard to love those people whom most of society has deemed unlovable, so it's been encouraging that people are prepared to pray for these prisoners."
Andy Taylor, a volunteer with the Prison Fellowship in Suffolk, said: "We basically pray for Hollesley Bay and Warren Hill, but we pray for ex-offenders as well.
"Prison is a very traumatic experience and that can transmit to the staff as well.
"They are very tense places, but at Warren Hill and Hollesley Bay the atmosphere is very good."
The Fellowship also runs a restorative justice course for prisoners in Bury St Edmunds called The Sycamore Tree.
Change of attitude
It is based on the Bible story of Zacchaeus, the cheating chief tax collector who climbed a sycamore tree to get a better view of Jesus.
His subsequent meeting with Jesus changed his way of thinking and behaving.
Mr Taylor said: "It's very powerful and we see great changes in the men as they come over a period of six weeks.
"They come very apprehensive and very resentful as they've had to face up to the fact that what they've done not only affects the victims, but their own families and themselves.
"On the course we get a victim of crime, not necessarily their victim, to come along and just tell them how they feel.
"Sometimes the seemingly more minor crimes have a tremendous affect on them, because they see the real hurt.
"It really changes their attitude."