Suffolk Wildlife Trust says harvest mice need farmers' help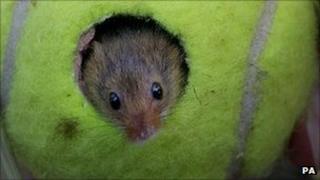 Farmers are being asked to create more grass margins around fields to encourage harvest mice.
The Suffolk Wildlife Trust (SWT) has been studying the tiny rodent to work out how to increase its numbers.
They want to link up grassland, reed bed a riverbank habitats to allow the mice to thrive.
Martha Meek, trust project manager, said: "They are not as common as they used to be and remain extremely vulnerable to habitat loss."
The wildlife trust said it was impossible to accurately count the number of harvest mice in the UK, although the species had suffered a huge decline since the 1970s due to change of land use and habitat loss.
It is the UK's smallest rodent, weighing about the same as a 20p coin and builds its nest about a metre off the ground in vegetation.
Dwindling populations
The study, which counted nests and examined barn owl pellets, showed that mice do a lot better if they can move between different habitats rather then living in isolated pockets.
Ms Meek said: "Our work on previous wildlife projects has shown that positive action by landowners can turn around a critical situation for dwindling populations.
"It is really easy to manage land for harvest mice and they usually move in quite quickly."
The harvest mouse tends to eat grass seed rather than crops so is not regarded as a pest by farmers.
Alex Dinsdale, NFU countryside adviser for Suffolk, said: "There's a lot of affection for the harvest mouse, though it's rarely seen because of its diminutive size.
"We would like to see its numbers increase and farmers are adopting conservation measures under the industry-led Campaign for the Farmed Environment and agri-environment schemes that will benefit this species and provide it with important nesting habitats."
The SWT said people with large gardens could help by leaving areas of long grass and cutting them in rotation every four years.