Jogger finds 15 kittens in Barham ditch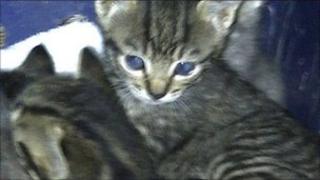 A jogger has found two cats and 15 kittens abandoned in boxes sealed with tape in a ditch in Suffolk.
The RSPCA was alerted to a rural road in the village of Barham, near Ipswich, on Thursday evening.
Insp Craig Plumley said the cats had no means of escape and would not have survived had someone not passed by on foot.
A silver car was seen nearby shortly before 19:00 BST. Anyone with information should contact the RSPCA.
Seven kittens were found in a box with one of the cats, with the other cat in a wooden chest with her eight young.
The RSPCA is searching for the cat in the chest after she became spooked and ran into the countryside when the jogger removed the tape.
The remaining cat, believed to be about one year old, and the 15 kittens, all about four to five weeks old, are healthy and in good condition, Mr Plumley said.
"We need to find as much information so we can catch the person responsible, but we are absolutely full to bursting with cats and I am struggling to find places for them to go," he added.
"Every cat centre is in the same boat. For some reason people aren't rehoming cats at the moment.
"It's a huge number to find in one go, and seven and eight kittens are big litters for those two cats."
Anyone interested in rehoming a cat should contact the RSPCA's Bury St Edmunds branch.