Sex education: surveys of Suffolk parents and children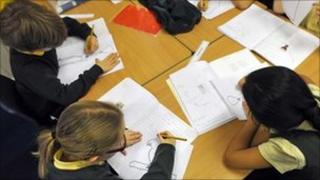 Parents and youngsters are being surveyed on how to provide sex education in Suffolk.
Harmoni, which provides sexual health services for the NHS, is asking how much should be done by parents and schools and at what age.
The service said sex education provision varies from school to school.
Julie Smith, from Harmoni, said: "It's something that we need to get right, no matter how embarrassing or uncomfortable it may be."
Two separate surveys are being carried out on the No Risks website - one for parents and one for children.
Questions include, "How would you rate the sex education you received at school?" and, "Do you think the discussion about sex and relationships should take place at home or at school?"
Inconsistent
Ms Smith, health service manager, said: "The younger generation are actually quite open about it, so the situation is improving, but sex education is quite inconsistent in the schools.
"Some teachers are more confident about the subject than others, while a lot of parents assume that the schools pick everything up, so there are gaps."
Tracey Ling, who works for Suffolk County Council at children's centres in south Ipswich, said: "Parents' own experience of sex education in schools is a complete mix and religion, culture and upbringing can play a role in that.
"I think this survey is a good idea and the work of the NHS sexual health services is important.
"Some parents here have found out information about sexually transmitted illnesses that they weren't aware of, but they could do more in the areas of contraception and what support is available if you are pregnant."
Harmoni said it will use the survey results to inform the way they provide sexual health advice in schools and at roadshows.