St Margaret's church in Ipswich asks campers to leave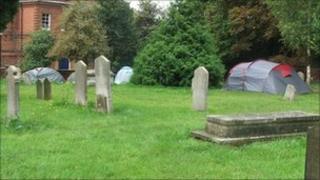 Eleven people who have been camping on an Ipswich churchyard have been asked to leave.
Homeless people are believed to have been sleeping at St Margaret's, on Bolton Lane, for about six years.
The diocese of St Edmundsbury and Ipswich said the campers would be spoken to about their housing needs.
Roger Fern, from the Ipswich Umbrella Trust, said a night centre was required in the town to prevent people from having to sleep rough.
Oskar, from Lithuania, has been camping at St Margaret's for several years.
He said when work was unavailable he had been happy to go to prison to be fed.
"If we have jobs we never stole - we're not bad people," he said.
'Limited facilities'
The Umbrella Trust opened premises in Blackhorse Lane in Ipswich in January as a place for people to take shelter, eat, wash and get advice.
Mr Fern, chairman of the trustees, said plans to incorporate a night centre had been blocked by objections.
"There is an overnight facility in the town - the borough council, for a number of years, has run two emergency direct access bed spaces.
"But they're very limited facilities.
"I amongst many others, have been saying that we need a night centre, not a night shelter, in town that does the same sort of things that we try and do in our day centre.
"That is to provide shelter and food.
"In addition to that, we need the sort of facility that says 'we'll do this, they'll do that, this is what you must do'.
"Because it's about individual responsibility, as well as about provision.
"We work on the the principal of gentle attrition - that is to say we will treat you with dignity and respect, as a human being, but there is some personal responsibility that you bear."
John Howard, press officer for the diocese of St Edmundsbury and Ipswich, said: "The vicar of St Margaret's, the reverend David Cutts, has visited those living in tents in the churchyard and has explained to them that they'll have to move on, and they've accepted this.
"David has also liaised closely with Ipswich Borough Council and when the campers are preparing to leave the council will have individual discussions with them about their housing needs."
An Ipswich Borough Council spokesman said: "IBC is working with all agencies involved with rough sleepers in Ipswich before the winter season to provide severe weather accommodation.
"Twelve emergency beds are on offer at Cavendish Lodge if the thermometer hits zero or below for three consecutive nights.
"Users will be offered health outreach and housing advice the next morning."