Boundary Commission proposals for Bury St Edmunds constituency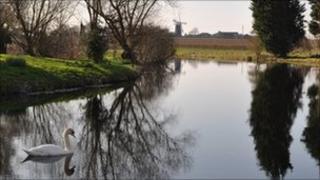 The Bury St Edmunds parliamentary constituency could lose five of its villages in a proposed shake-up.
The Boundary Commission has issued its initial recommendations in response to the government's proposal to reduce the number of MPs from 650 to 600.
Badwell Ash, Gislingham, Rickinghall, Walsham and Pakenham could become part of the West Suffolk constituency.
In turn, West Suffolk would lose Newmarket to a cross-county constituency called Newmarket & Ely.
David Ruffley, the Conservative MP for Bury St Edmunds, said: "As I have the largest constituency in Suffolk [with 85,933 voters], it was inevitable the Boundary Commission would try to remove voters and redistribute them to a smaller Suffolk constituency."
The Boundary Commission said the aim was to have 76,641 voters in each constituency or be within 5% of that figure.
The proposed new Bury St Edmunds constituency would have 75,445 voters, while West Suffolk would have 73,670.
The commission's initial proposals will be considered as part of the Parliamentary Voting System and Constituencies Bill.
Mr Ruffley said: "None of this is absolutely certain to happen.
"If the House of Commons votes down the proposals - and there is talk today that the Liberal Democrats may vote against them with Labour - then no boundary changes will go through anywhere in the country."
There are no proposed changes to the constituencies of Ipswich, Central Suffolk & North Ipswich, South Suffolk, Waveney or Suffolk Coastal.