Ed Sheeran plans for second album as + heads to number one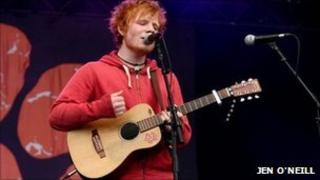 Ed Sheeran says his second album needs to be "10 times better" than his debut if he is to have a long career.
The Framlingham singer's first LP on a major label, +, was released this week and is expected to debut at number one in the UK album chart.
"Album two is possibly the most important thing in anyone's career," he said.
"I've seen it with Adele and Coldplay, their stamp on the world has been their second album.
"I want to take a full year just to put that together to get it right."
Ed signed with Asylum/Atlantic after achieving success with a series of independent releases, including January's collaborations EP which featured the likes of Wiley, Devlin and Wretch 32.
His debut single with a major label, The A Team, spent 12 weeks in the top 10 before he released follow up - You Need Me, I Don't Need You.
"You Need Me was such a thorn in my side for such a long time," he said.
"So many people turned it down, didn't want to play it and said I should stop playing it."
Ed's live version of the song, recorded for SB.TV, has almost four million hits on YouTube and played an important part in building his reputation.
"I wasn't going to put it on the album as I couldn't capture the live set up in a recording," he said.
"But I did a live recording of it and Charlie Huggall, who did You Got the Love for Florence + the Machine, took it away, got a drummer to drum on it, then chopped up the samples and made it this really cool hip hop track."
'Suffolk suffocates me'
You Need Me, I Don't Need You features the line 'Suffolk sadly seems to sort of suffocate me'.
"I wrote that line when I was 15," said Ed, who is now 20. "I hadn't really ever been to London and I was kind of trapped - I couldn't drive or anything.
"It's got to a point where it's such a breath of fresh air to come back to Suffolk now.
"London is so condensed and you know everyone and everyone's 'on switch' is going full pelt every single day.
"When you come back to Suffolk things just slow down and you can chill out."