Lowestoft Players says it is being forced out of the Marina Theatre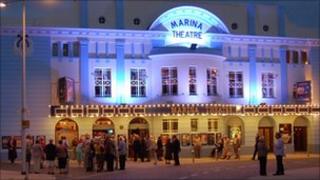 An amateur dramatics group in Lowestoft says it has been priced out of putting on performances at the Marina Theatre.
The Lowestoft Players has staged productions at the theatre since 1988 but says its current production, Our House, will be the last one.
"Last year they (the theatre) took 20% of our take, they're now increasing that to 30%," said Nick Garrod, who helps manage the Lowestoft Players.
The Marina Theatre said negotiations were ongoing with the group.
It cost about £7,000 for the Lowestoft Players to stage a production at the theatre last year.
Since then it has been agreed to hand the running of the theatre over from Waveney District Council to a charitable trust.
Alternative venue
Mr Garrod said: "We thought this year we would have to pay £10,000 to £11,000 (to put on a production) but they've added another £5,000 worth of costs."
Mr Garrod said the group could not afford to spend £16,000 on a production so would have to consider an alternative venue for future shows.
"We want to work with the Marina to see it be a success and wanted to be part of the trust to try and encourage more users," he said.
"We're the only community group that are using the Marina Theatre.
"They should be working with us to encourage more sales so they can take the revenue they want to take from us."
Martin Halliday, theatre manager, said the increase was not as high as the Lowestoft Players quoted and that he hoped talks would continue.
"As part of the negotiations we have suggested that we don't charge them a substantial hire fee, we take a percentage of their box office income," said Mr Halliday.
"If they do very well we take a little bit more, if they don't do as well they don't have that awful risk of paying out a huge hire fee.
"Effectively the theatre is taking a substantial part of the risk of any production even though they don't have any control of that production."
Mr Halliday said Lowestoft Players had "jumped the gun" in announcing the end of their time at the theatre.
"It's very sad because we know the Lowestoft Players are a fantastic amateur society, we see them as part of our programme, they've been part of the local community for many years and we would like that to continue," he said.
"But as we are a new body, a new trust which will be a charity, we will not be able to subsidise them.
"We're asking them to put a contribution towards the staffing costs and this is where, at the moment, there is some miscommunication."