Suffolk businesses trained to work with ex-offenders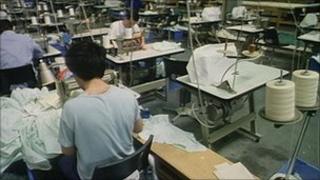 Training days are being held to encourage businesses and organisations to employ ex-offenders.
A Business in the Community (BITC) survey showed 45% of organisations in East Anglia were put-off shortlisting people with criminal records.
The charity is holding a series of Right Step workshops for employers to look at the business case.
Mike Brophy, from BITC, said: "Suffolk employers could be missing out on talented people."
The charity said its training provides examples of companies who take their own training schemes into prisons or take prisoners into their premises on day release in areas such as catering.
Mr Brophy, who is regional director for BTIC, said: "Employers in this region said they were less likely [than in the UK as a whole] to offer ex-offenders an interview even if they might be skilled.
In 'everyone's interest'
"Interestingly, 80% of employers agreed that ex-offenders should be helped to get back into the workforce.
"What we're trying to do is challenge the system that many companies have where, on the front of an application form, it might say 'have you got a criminal record?'.
BTIC said it also aims to de-mystify some of the jargon used by people with criminal convictions on their job application forms.
Paul Winter, chief executive of Ipswich Building Society and chairman of the Suffolk branch of the Institute of Directors (IoD), said it is in "everyone's interest" to prevent re-offending via gainful employment.
"We would look at somebody in exactly the same way we do anyone else," he said.
"They're not asking for special treatment, they're just asking for equal treatment.
"The IoD had a trip around Hollesley Bay open prison and saw the great work they are doing on training people to have a decent job when they come out."