Halesworth road 'has slowest broadband in UK'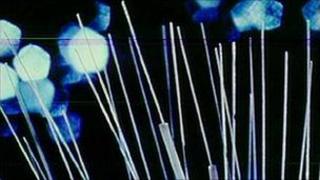 A road in Suffolk has the slowest broadband in the UK, according to comparison website uSwitch.
Mount Pleasant in Halesworth had an average download speed of 0.127Mbps - 37 times slower than the UK's average of 6.8Mbps.
Parts of Lowestoft, Halesworth and Lakenheath also featured in the list of the 50 slowest broadband connections.
BT disputes the figures, saying that broadband speeds in Mount Pleasant are "well in excess" of uSwitch's findings.
The figures came from more than 1.5m speed tests on the uSwitch website during March and August 2011.
Ernest Doku, from uSwitch.com, said: "Mount Pleasant was really below the average - it would take about two days to download a movie.
"There are so many factors that affect your broadband speed - the proximity to your local broadband exchange or the copper wires that lead to your house.
"A lot of the investment that broadband providers are spending is on urban areas, so it's taking them a while to reach the rural areas that really need the broadband speeds to be improved."
BT said uSwitch's figures seemed to be "very out of date".
A spokesperson said: "Several of the allegedly 'slow' streets now have access to superfast fibre broadband.
"Mount Pleasant doesn't have access to fibre broadband at present but speeds in the street are well in excess of those reported by uSwitch as the road is close to the exchange."
BT says 134,000 more homes and businesses in Suffolk will have super-fast broadband, considered to be at least 24Mbps, by autumn 2012.
Parts of Ipswich, Sudbury, Felixstowe, Foxhall, Belstead, Bungay, Hadleigh, Mildenhall, Stowmarket, Whitton, Woodbridge and Lowestoft will benefit from the rollout.
In June, Suffolk County Council announced a £41.7m project to increase broadband speed.