Suffolk Police 'sorry' for Norwich City fans missing match start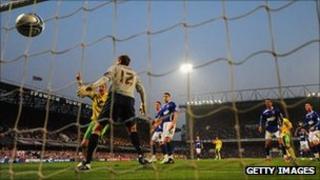 Suffolk Police have apologised to Norwich City fans after 400 supporters missed the kick-off of a match against Ipswich Town.
The fans missed the first goal of the match in April due to perceived threats from Ipswich fans outside the ground.
A police review said officers made "a genuine mistake of advising them of an apparent delayed kick-off".
It said a number of fans were held back before the game while the road outside the ground was cleared of home fans.
The derby match at Portman Road had been played on a Sunday lunchtime for 13 years until last season when it took place on Thursday, 21 April - the evening before Good Friday.
'Cynical view'
Suffolk Police said there were 19 arrests and 13 people were ejected from the ground.
The police force has declined to make its report available to the BBC.
Kathy Blake, secretary of the Norwich City Independent Supporters' Association, who was with the visiting fans, said she "welcomes the police apology".
"But I tend to be a bit cynical and think it's a PR exercise because they said at the time the operation was a great success," she said.
"The fans were rightly aggrieved by the delay because they missed the first goal."
The report's main recommendation was that "a larger number of specially-trained officers should be deployed".
With the clubs in different divisions this season, there are no more derby games scheduled.