Ipswich Hospital 'could lose 250 posts'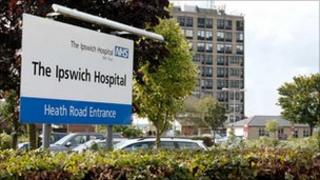 Ipswich Hospital is believed to be facing hundreds of job losses as it tries to clear debts.
Staff and MP Dan Poulter have said that up to 250 jobs could go, although the hospital said it was not confirming that figure.
The NHS hospital has debts of £11.6m so far this year.
Hospital chief executive Andrew Reed said: "I don't want to bandy about figures, but we're in a position where we can't give any guarantees."
Mr Reed said the hospital also has to make a long-term repayment of £25m on the mortgage for the Garrett Anderson Centre, which was built under the Private Finance Initiative.
Dr Poulter, Conservative MP for Central Suffolk and North Ipswich, said: "We already knew that there were going to be around 100 jobs in middle management that were going to be phased out as people retired or moved on.
'A lot of fat'
"It's very important we don't see cuts to front-line services, which I think is unacceptable.
"We do know that there's a lot of fat in the NHS, particularly around middle management, so there is a lot that needs to be trimmed and I'm awaiting further clarification on that."
Mr Reed said he was "very keen to protect our clinical services and nurses on wards".
"The reality is that about 70% of our costs are in pay, therefore it's very difficult to imagine how we can recover our in-year financial problems without having to look at the number of people we employ," he said.
"I'm not convinced every out-patient clinic is full-to-bursting and every operating theatre list is full.
"There are many things that we can do to increase our efficiency and the position we're in just pushes that challenge further."