Suffolk street light switch-off prompts petition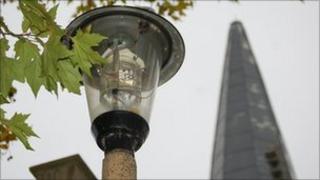 Campaigners are aiming for 3,000 signatures in a bid to keep Suffolk's street lights switched on at night.
Suffolk County Council said it will save £550,000 a year by dimming or switching off lights in residential streets between midnight and 05:30.
Rex Chittock, of Ipswich, who started the petition, said he needed 3,000 names to get the council to reconsider.
The Conservative-run authority said the lighting changes were good value for taxpayers.
'With a torch'
The policy is being rolled out across the county in stages.
The petition is being taken to supermarkets and schools for people to sign.
Mr Chittock, who lives on Darwin Road where the lights have been turned off, said: "If I had to write down all the complaints about incidents I would fill a book and these crimes are happening after midnight.
"On the three occasions I rang 999 [when he was a Neighbourhood Watch co-ordinator], the first thing they ask for is a description and I can't do that now with the lights out.
"My daughter, who's a midwife, has to go out at two or three in the morning in a darkened street with a torch looking for a number and she can't park anywhere near the house with lots of stuff to take to the house. Disgusting."
Councillor Guy McGregor, who has responsibility for street lights, said: "You've got to weigh up a sensible policy against the occasional marginal inconvenience to people and for the vast majority of people this is the right thing to do.
'Do understand'
"I'll look forward to receiving this petition, but when the facts are fully known the majority of people will say it's a good thing."
Ch Supt David Skevington said "street lighting can deter crime" and the police have been working with the council to decide which lights to dim and which to turn off.
"We always recommend residential and business properties install good lighting to deter thieves and many CCTV systems cannot capture useful footage in the dark," he said.
"However, we do understand the economic and environmental pressures on councils.
"We will continue to feed back any thoughts or concerns if and when required."