Sir Bobby Robson auction backed by Jose Mourinho and David Beckham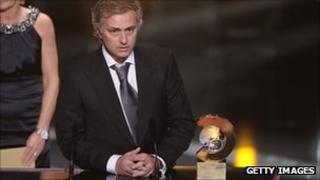 Jose Mourinho and David Beckham have lent their support to an online auction for Sir Bobby Robson's charity.
The pair are among a long list of big names to donate items to be sold as part of Sir Bobby's Breakthrough Auction, taking place 8-23 October.
Mourinho, who worked as an interpreter and assistant for Robson in Spain and Portugal, has donated his FIFA Coach of the Year award from 2010.
The Apex in Bury St Edmunds is hosting a fund-raising ball on 20 October.
Beckham has donated a signed LA Galaxy shirt and a football.
Proceeds from the auction will be split between the Sir Bobby Robson Foundation and Breakthrough Breast Cancer.
Robson, who as manager won the FA Cup and UEFA Cup for Ipswich, died in 2009 after a long battle with cancer.
Adam Clark, project manager for the auction, said the long list of donated items was testament to Robson's character.
"Such universal respect is rarely seen," he said.
Other individuals from the sporting world have donated items - including Sir Alex Ferguson, Sven-Goran Eriksson and Fabio Capello - but Mr Clark said Mourinho's item has sparked the most interest.
"The story has picked up interest in around 70 countries and since then we've been inundated with other people wanting to donate things," he said.
The event at the Apex will be a focal point for the auction - but all items will be open for bids via the auction website.
Mr Clark said: "We knew early on that the appeal was far more than the few hundred people that we could fit in a room - so it was really important that we had something that everyone could take part in."