Suffolk stocks up on salt ahead of winter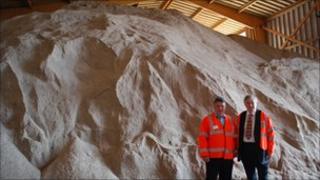 Nearly 25,000 tonnes of salt and grit has been stockpiled in Suffolk to cope with winter snow and ice.
Facilities for the gritting lorry drivers have also been improved in anticipation of difficult conditions on the region's roads.
Mark Bee, leader of the Conservative-led County Council, said: "We're ready for whatever winter can throw at Suffolk."
Guy McGregor, portfolio holder for transport, said the authority had as much salt in storage as was spread on its roads last year.
He said the control room at the Phoenix House salt barn, which opened last year, had helped the gritting operation.
"This particular site contains really good facilities for the men who drive our gritting lorries, 12 hours on and 12 hours off, proper facilities for them to be fed, get dry, have a shower and relax," he said.
Mr McGregor added that the public could also help in clearing icy pavements.
"I think we've got to go back to the idea of civic pride - clearing the bits of pavement in front of our doors, shops and houses," he said.
"Out in the country we do offer to fill up the salt pods if people will buy the actual container, so people themselves can spread the grit and salt in the rural villages."