BBC Suffolk's Children in Need Carol Concert 2011 at Snape Maltings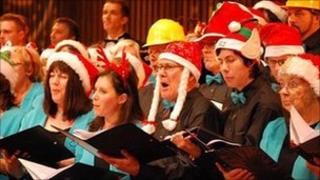 BBC Suffolk's annual Children in Need Carol Concert returns to Snape Maltings this year with an array of local talent.
Roger Jones will be the musical director and he will be conducting the Suffolk Concert Band through two sets as well as leading the audience through their carols.
Saxmundham Primary School are selecting their best 25 singers for the evening.
The concert takes place on Saturday, 3 December.
The concert also features the Suffolk Soul Singers, the 100-strong Woodbridge Choral Society, eight-voice-act Musicology and Ipswich solo pianist Yu Zhou Zhang.
Rachel Sloane, who organises the concert, said: "We've had all different sorts of musical genres and we've never had anyone back - we've always managed to find new talent.
Sensational acoustics
"I can't believe it's the ninth year we've been doing it.
"It's always on the first Saturday of December and everyone says their Christmas doesn't start until then."
The compere for the evening will be Nick Risby who presents the late night show on BBC Local Radio across the eastern counties.
He said: "It's always a pleasure and an honour to be asked to compere the CiN Carol Concert.
"Every year the concert just gets better and at Snape the acoustics are just sensational."
The venue for the annual concert alternates between Snape and St Mary's Church, Bury St Edmunds.
Tickets, which are £10 for adults and £8 for children, are available from Aldeburgh Music.
The concert will be recorded for broadcast on BBC Radio Suffolk at Christmas.