Suffolk's Ickworth Vineyard suffers first-ever crop failure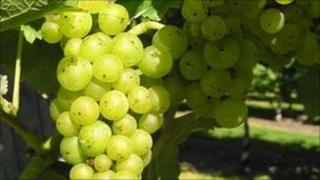 A Suffolk vineyard's owners said the early spring and frosts have left it unable to produce any wine for the first time in its 16-year history.
Ickworth Vineyard said buds appeared early on its vines, but were destroyed by frosts in May.
The vineyard, which is in the grounds of Ickworth House, Horringer, usually produces 3,500 bottles a year.
Other producers said they had been able to recover from the frost and harvest some grapes.
Jillian Macready, who runs Ickworth, said: "Because the buds were so far forward, they were much more devastated than they would have been had we had a normal, later spring.
"A frost of -1C is fine, but anything lower is too damaging and we believe that the frosts were down to -4C.
Scorched grapes
"Because we've got listed 12-foot walls around our vineyard [which is leased from the National Trust], the frost can't 'roll away' down the hill as it would in a vineyard on a more open site."
At Oak Hill Wines in Fressingfield, Suffolk, they estimate they will harvest enough grapes for 2,000 bottles.
The company said that figure is down on its record of 3,000 bottles, in 2006.
Carol Spenser, co-owner of Oak Hill, said: "We had warm weather in May with lots of buds, but we came out one morning and a third of the vineyard was 'scorched' by frost.
"Fortunately, we were able to remove the blackened buds and we got some secondary flowering, so our crop survived."