Patients escape from secure hospital in Suffolk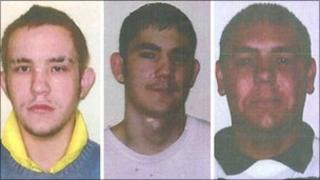 Three patients forced their way out of a secure hospital in Suffolk, injuring a member of staff.
Luke Sparks, Ross Beeby and Jason Williams forced their way from the secure hospital in Lion Road, Palgrave, near Diss, at about 01:00 BST.
Mr Beeby and Mr Williams were found by police cycling along the A140 in Norfolk towards Diss and have been detained by officers.
Mr Sparks was still missing on Sunday afternoon, police said .
Police have been conducting searches using specialist trained dogs and the police helicopter.
A member of staff received a minor injury in the breakout.
Mr Sparks, 21, has short black hair, is of average size and muscular. He was wearing a grey hooded top, grey shorts and black, grey and white Nike trainers.
Suffolk Police said members of the public are asked not to approach Mr Sparks if seen but to call the police immediately on 999.