Ipswich Hospital pays £7m for brain-injured boy's care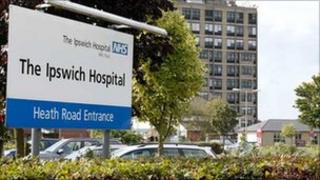 Ipswich Hospital has agreed to pay £6.94m towards the care of a seven-year-old boy who was left with brain injuries after his birth.
The boy, who cannot be named for legal reasons, was starved of oxygen and as a result requires lifelong constant care.
The High Court heard the hospital admitted liability for not delivering him sooner in 2004.
The boy was left with cerebral palsy and dystonia and cannot sit, stand or grab items.
He also has speech impairments and learning difficulties.
'Bright, active child'
The court heard the hospital was negligent in the management of the boy's birth and he suffered a hypoxic injury which would not have occurred had staff delivered him earlier.
Harry Trusted, representing the boy, said: "He is a very bright, active child, but I cannot paint it in an entirely positive light as he has lots of needs and is unable to sleep.
"The toll on mum and dad is a very heavy one and they had no choice but to move house because of his disabilities."
Ipswich Hospital NHS Trust agreed to pay a lump sum of £3.25m with further payments of £124,000-a-year rising to £175,000-a-year in 2023.
The money is compensation for loss of earnings and will also pay for specially adapted accommodation, equipment, speech and language therapy and supporting care.
'Love and devotion'
Martin Porter QC, representing the hospital, said: "An apology was made in writing at the time liability was admitted in 2007.
"I repeat that apology on behalf of the NHS trust, which is very sorry that [the child] did not receive the standard of care he was entitled to."
Mr Justice Butterfield, who approved the settlement, said: "The parents have cared for this child with love and devotion over many years.
"The money is a tiny irrelevance for the difficulties they have gone through.
"At least the financial recompense is security for the future."