West Suffolk Hospital plans £9m cuts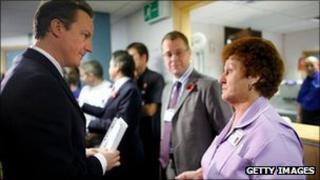 West Suffolk Hospital has revealed plans to cut £9m over the next four years but bosses have stressed they will keep job losses to a minimum.
The cuts are part of NHS efficiency savings totalling £20bn nationwide.
Jan Bloomfield, director of workforce, said the Bury St Edmunds hospital could save up to £2m by hiring fewer members of staff from agencies.
She said: "We will work our hardest to make sure there are no job losses - i.e. people made redundant."
Ms Bloomfield said about 10% of staff leave the hospital every year and that the trust would carefully consider whether posts in the future should remain closed.
"We have sat down with managers and staff to say 'how are we spending our money and how could we spend it better in order that we can make savings without affecting front-line services for our patients?'," she said.
'Huge recruitment campaign'
"If there are things that we're doing that we don't need to because they're not clinically effective, let's stop doing that in order that we can save money.
"One of our strategies is to employ more staff.
"We've found that we've spent too much money on bank and agency staff, so for instance I've had a huge recruitment campaign for more consultants in order that we can have NHS paid consultants rather than agency paid consultants, which is saving our organisation a lot of money.
"We have reduced our nurse agency spend to almost zero.
"That's working with the ward managers, not the directors, to say how can we better run our wards in order that we don't spend on agency staff."
Tim Roberts, regional officer for Unison in the East, said job losses were inevitable.
"We welcome the fact that they're trying to look at improving their finances by cutting down on agency and locum costs, by potentially using voluntary redundancies, but we do fear that there will be compulsory redundancies and there will be an impact on patient care because of it.
"In the current year they have deleted 27 posts.
"Clearly they have to make £9m savings, which is regrettable, but I can't see any other way of making that kind of saving without job losses."