Cold cases examined in Ipswich skeleton find inquiry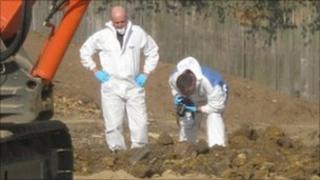 Cold case files are being examined by police following the discovery of human bones in Ipswich.
The discovery was made on Valley Road on Monday at a site where four houses are being built.
Suffolk police are trawling missing persons reports locally and nationally for possible links to unsolved cases.
Clothing including footwear has been found but officers said it was too early to say if they were linked to the human remains.
The site had previously been derelict for more than 50 years.
Det Ch Insp Neil Luckett said: "Because we have found some skeletal remains, we have now got to excavate the site to try to find the rest of those remains.
"The key questions are whose remains are these, how did they get there, and how did the person die?"
He added that the death could have happened naturally.