Ipswich town centre traffic scheme focuses on buses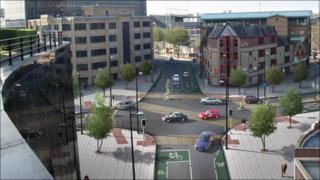 Buses are at the heart of a new £21.5m transport scheme for Ipswich which aims to discourage car use.
Suffolk County Council is proposing a range of measures for the town centre ahead of a public consultation.
There would be new electronic displays at bus stops and priority would be given to buses at junctions.
Guy McGregor, councillor for transport issues, said: "We cannot build more roads in Ipswich but we can make better use of road space."
The council, which will spend £2.5m, has secured £18m for the project from the Department for Transport. A further £1m will come from other sources, including Ipswich Borough Council.
The scheme, called Ipswich - Transport Fit for the 21st Century, also includes refurbished and improved bus stations, a new computer system to control traffic lights, improvements to walking and cycling routes and new signs.
'Positive step'
The Civic Drive/Franciscan Way/Princes Street roundabout and subways would be replaced by a crossroads.
Dave Watson, transport strategy manager at the county council, said: "With the [traffic] growth that's expected over the next 20 years, we know the town is going to be very congested.
"A new computerised control system will optimise the traffic signal timings and give priority to buses when they are running late."
Mr McGregor said: "If we make it easier for people to walk and cycle they will take that option.
"Fundamentally, the town centre has got to be a civilised place to walk and cycle, not dominated by fumes and the car."
The council claims the scheme will help support employment and housing growth.
Mark Parker, board member of Ipswich Chamber of Commerce, said: "I don't think anyone can be truly satisfied with the current transport system.
"Reducing congestion can only be a positive step and if this is achieved in part through increased use of green and sustainable options, then hopefully the overall experience for those who will still find it necessary to move around in their vehicles will also be improved."
A month of consultation gets underway on 12 October with a week-long exhibition at the Tower Ramparts Shopping Centre.
The council said work on the scheme would not begin until summer 2012 at the earliest.