BBC Radio Suffolk's BIG Night Out 2011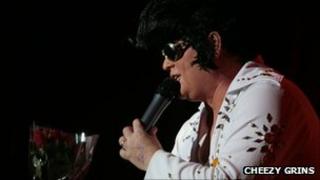 Mark Murphy, Lesley Dolphin, Terry Baxter and Stephen Foster will be performing at the 2011 BBC Radio Suffolk BIG Night Out.
They will be joined by other members of staff as well as some 'actual talent' from the world of music, comedy, magic and theatre - all helping BBC Radio Suffolk celebrate its 21st birthday.
The gig is at Felixstowe's Spa Pavilion on Wednesday, 9 November.
Tickets cost £12.50 each, with at least £9 going to Children in Need.
Producer Norman Lloyd said: "This is probably the strongest line-up we've had since last year!"
Mark Murphy will be exchanging his Elvis jumpsuit for a Benny Hill milkman's costume, as he pays tribute to the fastest milkman in the west.
He said: "As I haven't lost any weight since last year when I was fat Elvis, Benny Hill is the perfect part for me to play!"
Tigers, Soul, Brothers
Music will come courtesy of Committed to the Blue Brothers, Funky Voices, Soul Kitchen and our very own Easy Tigers (Graeme Mac and Jon Wright).
"Unlike previous rehearsals there's been no discussion about the use of maracas and we hope to maintain that level of professionalism up the gig itself," said Jon.
Several members of staff have been using their lunchtimes to hone their collective voices for a tribute to the hit TV show Glee.
BBC Radio Suffolk editor Peter Cook and assistant editor Charlotte Spackman will be harmonising with Alison Acton, Emily Anderson, Kate Arkell, Jen Dale, Cleah Hetherington, Norman Lloyd, Stephanie Mackentyre, Louise Morgan, James Tzanoudakis and Linda Walker.
News editor Kate said: "What we lack in talent we make up for in enthusiasm!"
Terry Baxter is still ironing out the details, but he should be welcoming some special guests to the stage.
Lesley Dolphin and Nigel Lungley will reprise their comedic musical partnership, as will Luke Deal and Georgina Wroe.
Michael J Fitch wowed the audience last year and will return to the Spa with a special illusion.
Woodbridge's Company of Four theatre group will open the evening and there will also be performances from ventriloquist Richard Wymark and Simon Warr.
Tickets can be purchased via the Spa Pavilion website, or by calling 01394 282126.