Newmarket October Yearling Sale: Prices up on first day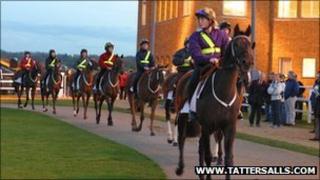 Millionaires from the world of international horse racing have descended on Newmarket for the October Yearling Sale.
One to two-year-old thoroughbreds of both sexes change hands at the Tattersalls auction ring over seven days.
Hotels, restaurants and businesses in the area all report increased trade at this time of year.
Jimmy George, marketing director at Tattersalls, said: "We're not immune to global economic factors, but trading on the first day was very, very good with turnover, average price and median price all up."
The first day saw 120 lots sold for 18,148,000 guineas (1 guinea = £1.05) which Tattersalls said was 22% up on last year.
A guinea (21 shillings) is still used as a term of measurement because, historically, for every 21 shillings a buyer spent, the seller got 20 while the auction house got one, and that ratio continues.
'Resilient business'
The biggest individual sale on day one this year was 800,000 guineas for Galileo, who is a half-sister to the Derby winner Pour Moi.
Mr George said: "It is a very resilient business. People still want to own racehorses and enjoy the sport.
"Racing and the breeding of thoroughbreds is vital to the local economy, Newmarket is the headquarters of European racing and without that it ceases to be the unique town that it is."
Tattersalls was founded at Hyde Park Corner, London in 1766 and, although the company sold horses on Newmarket High Street outside the Jockey Club from the 1790s, it wasn't until 1870 that they moved to the current Park Paddocks site.
About 6-7,000 horses are sold in the company's indoor sales ring each year.
Alan Grundy, assistant curator of the National Horseracing Museum in Newmarket, said Tattersalls was a "vital cog" for the town alongside the stables, equipment shops, gallops and the two racecourses.
Sales buzz
He said: "I had a Japanese film crew in this morning and you can see millions of pounds going through the sales ring.
"I think it gives the town a bit of a buzz and we love it here because people come in to our little shop.
"There has been talk of Newmarket going for World Heritage Site status, because organised thoroughbred racing started here under Charles II in the late 17th Century."
The auctioneer's voice can carry across the town centre to the local shops, restaurants and hotels.
Stephanie Carvell, general manager of the Rutland Arms Hotel on the High Street, said: "A lot of the people that stay with us are working for the big owners, so we don't necessarily see the people with the money, we see their business representatives.
"In terms of how it's changed over the past three years, I think it's been a harder market for them and they're more demanding on what they want to pay for rooms and our restaurant.
"But I've got some lovely regulars from Ireland, Germany, Greece, Italy and Australia who've been coming here for 20 years and it's always nice to see them."
Mr George said: "There are training centres all over the world, but it's a competitive sport and Newmarket has to work hard to continue to be a centre of excellence where people want to send their horses."