Saatchi agrees to return to Ipswich School of Art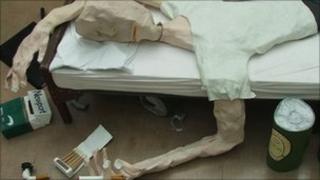 The Saatchi Gallery is to return to Ipswich with a new collection of art next year.
The London-based gallery helped launch Ipswich Art School's exhibition space when it opened in 2010.
Greg Cooper, Ipswich Borough Council cultural development manager, said part of Charles Saatchi's collection will be on show at the school in the spring.
"He was so impressed with the response from the initial exhibition that he's bringing more works back," he said.
Ipswich Art School has exhibited work from established artists including Maggi Hambling and Chinwe Chukwuogo-Roy, but Mr Cooper said it was the community work that impressed the Saatchi Gallery.
"One of the things they're really impressed with is the education programme we have," he said.
"We work with lots of schools locally and the higher and further education in sharing the space - which is something they don't necessarily manage in London."