Southwold harbour search over car in water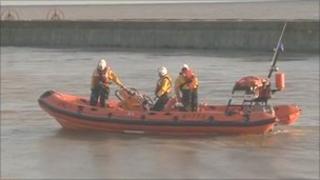 A team of divers from the Met Police are trying to recover the occupants of a car which went into the water at a Suffolk harbour.
Police said a car went through railings at speed near the lifeboat station, Southwold, at about 15:00 BST.
It is not known how many people were inside. Attempts to rescue them failed and the incident is now a recovery operation, police said.
Divers and a crane had arrived by 21:00 BST.
A witness raised the alarm and a lifeboat was launched. Police, fire officers, Great Yarmouth coastguard and ambulance crews were sent to the scene.
The lifeboat crew arrived before the car had completely sunk but could not get into the vehicle.
The East of England Ambulance Service said it sent its Hazardous Area Response Team (HART) along with two land ambulances, the air ambulance and an officer to manage the scene.
By 17:00 BST, all resources were stood down except one land ambulance and an officer left on standby while police divers worked to recover the vehicle.
The recovery operation is expected to continue for some time, an ambulance spokeswoman said.
Sgt Nigel Tompsett said: "A witness who was sitting at the side of the river heard a car engine revving up, a car entered the car park, drove straight past them through the fences and disappeared over the harbour wall into the river."
"It all happened so quickly... we don't know how many people were in the car.
"We are now looking at recovering the vehicle safely."