Southwold harbour search: One man found dead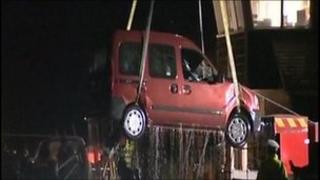 An elderly man has died after his car careered into the water at a Suffolk harbour.
The vehicle was driven through railings at speed near the lifeboat station, in Southwold, at about 15:00 BST on Friday, police said.
Police divers and a crane recovered the vehicle several hours later and the man's body was found inside.
He is thought to have been a local man aged 89. No-one else is believed to have been in the car.
A Suffolk police spokeswoman said there did not appear to be any suspicious circumstances.
All the doors to the vehicle had been closed when the car was retrieved, the spokeswoman added.
The man has not yet been formally identified.
Earlier, a lifeboat had arrived at the scene before the car had completely sunk but the crew could not get into the vehicle.
Sgt Nigel Tompsett said: "A witness who was sitting at the side of the river heard a car engine revving up, a car entered the car park, drove straight past them through the fences and disappeared over the harbour wall into the river.
"It all happened so quickly."