Gareth Bayliss presents debut exhibition at Ipswich Art School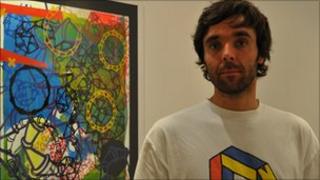 Renowned graphic designer Gareth Bayliss is presenting the first retrospective of his work at his former Suffolk school.
Bayliss, 35, studied at Ipswich Art School, which is now a gallery, before providing designs for clients including Dizzee Rascal, Mo Wax, Stussy and Habitat.
Bayliss, who also teaches at Norwich University's College of the Arts, has continued his relationship with the art school by running a weekend art club for children.
Meanwhile, Return to the Ipswich Art School showcases some of his prints, t-shirts, record sleeves and sketch pads filled with original drawings.
"It's been really difficult to pull together," said Bayliss, who spent four months organising the show with the help of Julia Devonshire, arts project officer for Ipswich Borough Council.
"What do I want to say? Who's this for?
"I want to show as many processes as I know, to be diverse as possible and introduce the new work.
"I've been hiding it all away, I'm quite reclusive. I do have blogs which I put stuff on, but so much of this isn't on there."
Swarms
Visitors to the exhibition are greeted by a wall boasting an ad hoc display of small arrows.
The organised scattering of the shape, inspired by Bayliss' love of watching starlings, has become a bit of a trademark for the artist.
The exhibition features two elaborate aluminium cuttings and several screen prints with variants of the design.
"They take weeks to do," he said. "They're cut from vinyl so I have to pick every arrow out by hand with a scalpel.
"It's that thing with graphic design about being a perfectionist and taking too long with things. Maybe this justifies it as being good."
"My design is a craft I think.
"It's important that people can make a differentiation about it being a craft and it not being a 'smash it out' graphic design thing."
Other artists
Bayliss says the new work amongst his collection shows a move away from graphic design.
One shows a shape similar to the hoods warn by falcons, drawn in marker pen and repeated without the pen leaving the paper.
"It's a nerdy test to start from one point and go round with one continuous line," he said.
"It's about constantly re-branding, which I know is my industry graphic design talk. I've switched career now and don't really get the buzz from graphic design."
Bayliss says his main aim with his work is to enjoy experimenting and to "embrace the happy accidents".
"We're making stuff, let's not question it too much," he said.
"When you get through art education you're questioning it a bit too much."
One wall of the exhibition has been reserved for Bayliss's friends. Mister Millerchip will be on show at some point, but Lee Barnard is first on display.
Barnard, also known as El Chucko, is a well-respected illustrator, but this is the first time his work has been at a gallery.
"They're amazing drawings," said Bayliss.
"That crazy wall probably took longer to draw than all my work combined."
Return to Ipswich Art School is on until March 2012.